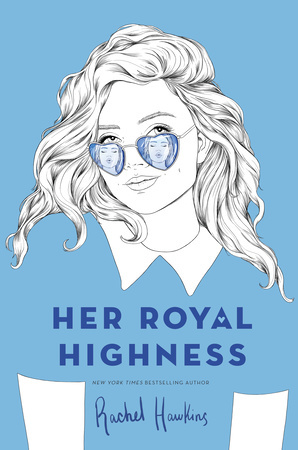 Book Review: Her Royal Highness by Rachel Hawkins
This book was so sweet and so cute. I absolutely love books that are in a series, but aren't completely related to one another. I don't know why, I'm just a total nerd for these types of books.
That said, I didn't read the first book in the royals series. Mostly because it wasn't LGBT and I've really been on an LGBT kick lately. BUT
This book. Was ADORABLE.
Millie and Flora are basically my endgame. When Millie was wasting her time with her friend Jude or whatever in the beginning of the book I literally wanted to punch her in the face. Like Go to Scotland and find your true love, Millie!
Flora in the beginning was high key annoying, but once she stopped being such a jerk to Millie I was like "Oh no she's just prickly because she doesn't trust people easily!" and honestly, same. I can totally relate.
This book was so sweet and cute and such a fun read. I did wish there was more of it. I don't really like it when books end on the "We're together!" part. And while this one didn't technically do that, it sort of felt that way.
Millie and Flora have so many cute moments in the book, but I felt like their story needed more to really feel wrapped up at the end. Because there were a lot of people that opposed their relationship, including Flora's own mom and that never really got resolved, so that sort of felt up in the air at the end.
Other than that, and a few minor complaints (Like how did Flora NOT know the animal of Scotland was the Unicorn when she is LITERALLY the princess of Scotland? Like I know that, Flora. And I'm an American. Yes, I know my family is Scottish & I'm first gen. Don't @ me.) I thought this book was FANTASTIC.
I hope to read a lot more cute books by Rachel Hawkins!
Overall rating: ★ ★ ★ ★
(4/5 Stars. )
Rating breakdown:
Prose: ????
Plot: ?‍❤️‍??‍❤️‍??‍❤️‍??‍❤️‍??‍❤️‍?
Characterization: ?????
Boredom meter: ?????
More About Her Royal Highness
Millie Quint is devastated when she discovers that her sort-of-best friend/sort-of-girlfriend has been kissing someone else. And because Millie cannot stand the thought of confronting her ex every day, she decides to apply for scholarships to boarding schools . . . the farther from Houston the better.
Millie can't believe her luck when she's accepted into one of the world's most exclusive schools, located in the rolling highlands of Scotland. Everything about Scotland is different: the country is misty and green; the school is gorgeous, and the students think Americans are cute.
The only problem: Mille's roommate Flora is a total princess.
She's also an actual princess. Of Scotland.
At first, the girls can barely stand each other–Flora is both high-class and high-key–but before Millie knows it, she has another sort-of-best-friend/sort-of-girlfriend. Even though Princess Flora could be a new chapter in her love life, Millie knows the chances of happily ever afters are slim . . . after all, real life isn't a fairy tale . . . or is it?
Get your copy here on Amazon.