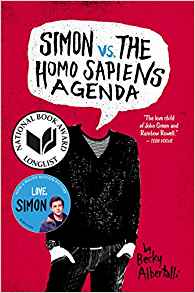 Review: Simon Vs. the Homo Sapiens Agenda by Becky Albertalli
Oh my hecc, I don't know how I waited so long to read this book! I even saw the movie first, but the book is so much better!
I feel like the movie really missed a lot of the best things about the book. Like, Abby being a literal cinnamon roll and Leah having Borderline Personality Disorder. Plus, the whole arc between Simon and his nemesis Martin was way better in the book.
In the movie it made things more about Simon's relationship falling apart with his friends, but in the book it was more about Simon and his friends rallying around him surrounding this. There were other ways where his friendships sort of fell apart and mended throughout the story and none of it revolved around Simon's sexuality. Not really.
The love letters between him and his love interest literally melted my whole heart. This was such a good coming of age queer story I literally am so mad at myself for not reading it until NOW. Like how could my gay ass miss this?
I absolutely LOVED it too. Simon is such a sweetheart, but my fave is Leah! Obviously. Haha. I can't wait to read more books by Becky Albertalli!
Overall rating: ★ ★ ★ ★ ★
(5/5 Stars. )
Rating breakdown:
Prose: ?????
Plot: ?????
Characterization: ?????
Boredom meter: ?????
Sixteen-year-old and not-so-openly gay Simon Spier prefers to save his drama for the school musical. But when an email falls into the wrong hands, his secret is at risk of being thrust into the spotlight. Now Simon is actually being blackmailed: if he doesn't play wingman for class clown Martin, his sexual identity will become everyone's business. Worse, the privacy of Blue, the pen name of the boy he's been emailing, will be compromised.
With some messy dynamics emerging in his once tight-knit group of friends, and his email correspondence with Blue growing more flirtatious every day, Simon's junior year has suddenly gotten all kinds of complicated. Now, change-averse Simon has to find a way to step out of his comfort zone before he's pushed out—without alienating his friends, compromising himself, or fumbling a shot at happiness with the most confusing, adorable guy he's never met.
Get your copy here on Amazon.